Attend REAL Brazilian Jiu-Jitsu classes in Severna Park, MD & Annapolis, MD!
We learn directly from the source - Grandmaster Relson Gracie! Don't accept less than the best!

Not all martial arts are created equal. Ideally, each art is good at what it was designed for, within the context for which it was designed. The focus of Gracie Jiu-Jitsu (aka Brazilian Jiu-Jitsu) at Kogen Dojo is Practical and Effective Self Defense for the average person on the street, at school, or wherever you find yourself. Our Brazilian Jiu-Jitsu classes teach smaller, weaker people how to defeat larger, stronger, and more aggressive attackers using superior techniques, positioning, and leverage. They say that most fights end up on the ground, but all fights start standing up. Authentic Gracie Jiu-Jitsu teaches both standing and ground techniques against the most common attacks you or your child are likely to encounter in your everyday lives.
At Kogen Dojo, we offer Brazilian Jiu-Jitsu classes for adults and children, at all skill levels, from beginner to advanced competitor. We have a diverse and knowledgeable set of instructors in all disciplines, bringing in high level guest instructors weekly from the Gracie Maryland Network, so that you only get the best at Kogen Dojo! Kogen Dojo is the only school in Annapolis, MD and Severna Park, MD for Authentic Gracie Jiu-Jitsu, but we are also the only Jiu-Jitsu School in Anne Arundel County focused on the Gracie Self Defense Curriculum.
Brazilian Jiu-Jitsu is the most effective martial arts for practical, modern self defense!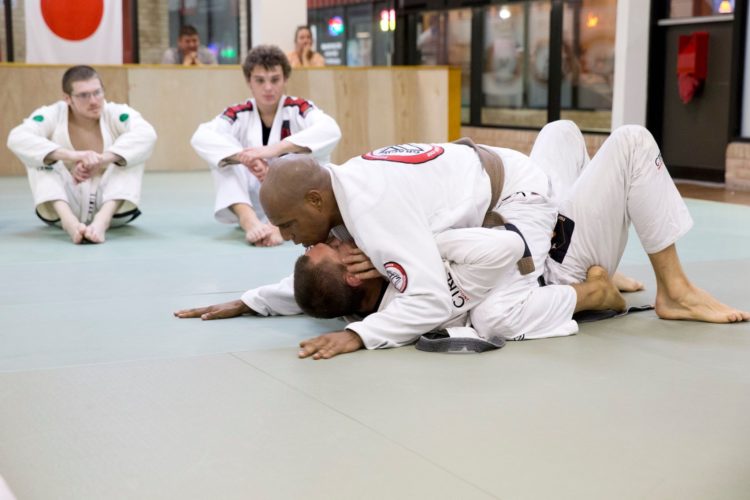 Kogen Dojo is an affiliate of Gracie Maryland, under the guidance of Grandmaster Relson Gracie, the second oldest son of Gracie Jiu-Jitsu founder Helio Gracie. The Gracie Family revolutionized martial arts, showing the world that Jiu-Jitsu allowed smaller, weaker people to defeat larger, stronger people through superior technique and leverage. Kogen Dojo maintains the Gracie Family tradition by focusing on the Self Defense aspect of Brazilian Jiu-Jitsu. While Self Defense Jiu-Jitsu skills carry over to Sport Jiu-Jitsu, the same can not necessarily be said in reverse, with Sport Jiu-Jitsu being useful for Self Defense. At Kogen Dojo, we know that sport competition is fun and we encourage and support our students who want to compete, but our First Priority is that you learn how to Protect Yourself and Protect Your Loved Ones! We are Severna Park and Annapolis's First and Best Self Defense Academy!!!

Kogen Dojo has amazing Martial Arts classes for adults. Whether you are a brand new student who is curious about martial arts, learning to defend yourself, or get into better shape, or you are a seasoned competitor and you are looking to improve your skills, we have the right classes for you. Kogen Dojo offers a variety of Brazilian Jiu-Jitsu classes for adults, from beginner to advanced, for women or men, for self defense or sport, even fight simulation classes so you can test your skills where it counts. Come as you are. We will meet you at your level and help you to get better. A good, solid foundation is the key to Gracie Jiu-Jitsu and life in general and at Kogen Dojo you will enjoy learning the fundamentals of Gracie Jiu-Jitsu in a fun, cooperative, and clean environment. Our professional instructors will ensure that your experience at Kogen Dojo is welcoming, safe, and informative.
Most of us thought about doing martial arts for a long time before working up the courage to walk through the door. We understand that the idea of entering a martial art academy for the first time can be intimidating. Remember, we are here for you. We are here to help you get stronger, more confident, and more well prepared. You are in good hands at Kogen Dojo because your success is our goal.
Our facility is clean, our classes are safe, and our programs fit who you are as you are when you walk in the door. If you have no prior skills, if you are not in the physical shape you'd like to be in, if you've been off the mats for a while, not only is that okay, but it's perfect. Start where you are. You will never be made to spar or compete beyond your level of comfort, if at all. We do martial arts to get stronger and the only way to do that is to keep each other healthy and safe. Some of our members compete in tournaments, but others are just looking for a fun hobby. Everyone is welcome at Kogen Dojo.
The best thing about Gracie Jiu-Jitsu is that it was developed to allow a smaller, weaker person to successfully defend him/herself against a larger, stronger person through superior leverage and technique. We teach Real Gracie Jiu-Jitsu at Kogen Dojo, focused on Self Defense first. Our system is practical, effective, and applicible to real life situations in today's world. Our instructors are all experienced and qualified to teach the Relson Gracie System of Jiu-Jitsu.
There is a common misconception that Gracie Jiu-Jitsu (aka Brazilian Jiu-Jitsu) focuses only on ground-fighting techniques, fighting from one's back. While it's true that most fights end up on the ground, we know that nearly ALL fights start standing up. At Kogen Dojo, we teach Authentic Gracie Jiu-Jitsu, with all classes beginning with standing self-defense techniques and/or safe, intelligent methods for taking the fight to the ground where it can be controlled on your terms. Furthermore, we teach strategies and tactics for avoiding or de-escalating conflict before the fight even begins. The best way to win a fight is to not get in one in the first place.
Gracie Jiu-Jitsu is a complete system of standing and ground techniques with a focus on what works for men, women, and children alike. If you are looking for the best Adult Martial Art classes near Severna Park, Maryland or Adult Martial Art Classes near Annapolis, Maryland, look no further. Kogen Dojo's Gracie Jiu-Jitsu Program is right for you and your whole family!
We know that your time is valuable. We're all over-busy and over-worked these days, often finding it difficult to find time to do something for ourselves. Kogen Dojo has classes every day of the week, at a variety of times, to fit your busy schedule. We also offer private lessons, group lessons, workshops, and seminars. If you've thought about trying martial arts, but have never taken the first step toward your goal, send us a quick message below. Training martial arts is a fun, healthy, and stress relieving activity, so send us a message below, tell us a little bit about yourself, and let us take care of the rest.
Whatever your goals, whether you want self defense, better cardio, or want to lose a few pounds, visit Kogen Dojo today and try Gracie Jiu-Jitsu!
Our goal is to offer the best martial arts classes, self defense classes, and jiu-jitsu classes in Severna Park, Annapolis, Arnold, Cape St. Claire, Millersville, Pasadena, Glen Burnie, Davidsonville, Edgewater, Odenton, Crofton, and Gambrills, Maryland. If you are looking for Martial Arts, Self Defense, and Jiu-Jitsu in Anne Arundel County, contact or visit Kogen Dojo today, obligation free!
What Adult Students Can Expect from Kogen Dojo!!!
* Friendly and Professional Instructors!
* Well-Structured, Practical Self Defense Classes!
* Clean and Fun Training Environment!
* Get Healthier, Stronger, and Safer!