Jiu-Jitsu Classes for Kids
THE BEST JIU-JITSU FOR KIDS PROGRAM IN MARYLAND!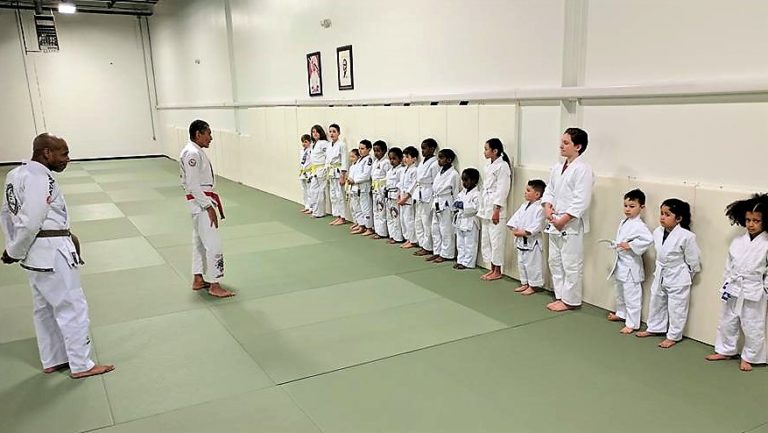 Every month, three million children miss school because they fear bullies. Maryland's zero tolerance policy, which prohibits students from defending themselves in school, has put our children and us parents in a very difficult position. Not only are kids afraid of bullies, getting beaten up or harrassed, but they are also afraid of the consequences of standing up for themselves. They are stuck between bullies and the system.
At Kogen Dojo, an affiliate of Gracie Jiu-Jitsu Maryland, we teach our young students to first attempt to verbally de-escalate a violent situation, giving them specific and direct phrases for dealing with bullies. If verbal de-escalation is not successful, our kids are taught to then tell an adult about the bullying behavior. The self defense skills we teach them are the last resort when all non-violent have been tried and have been unsuccessful. The ability to not have to fight is true power and our main goal is to empower the children that we teach.
Patience, Tolerance, and Discipline are definining characteristics of a good Martial Artist. We teach our children that a real Martial Artist is Respecful and Humble, never someone who looks for fights or picks on others. Sometimes, sadly, the fight picks you and you are left with no option besides Self Defense. What sets Kogen Dojo apart as a Gracie Jiu-Jitsu Maryland affiliate is that we teach these values to our kids as well as the skills necessary to defend themselves when absolutely necessary. We are the only Martial Art School in Anne Arundel County that focuses on all aspects of Self Defense, from fight avoidance, to conflict de-escalation, and finally how to neutralize an attacker as needed.
CONFIDENCE AND SKILL ARE THE BEST BULLY DETERRENTS!
Kogen Kids will leave the academy 100% confident that they do not need to fight and that they can handle themselves if a fight is unavoidable. Our Jiu-Jitsu classes for kids could mean the difference between your kid being bullied at school or making a bully think twice before picking on him or her. Confident kids don't get bullied!
Our focus at Kogen Dojo in Severna Park, Maryland is entirely on control, non-violence, and self defense. If you can control yourself and control your attacker, you have all the options and your attacker is left only to submit and move on. Jiu-Jitsu is effective and safe for children because Gracie Jiu-Jitsu gives kids control over conflict. Most other martial arts rely on meeting violence with violence, teaching kids to meet force with force. These tactics might work well if the child is of equal or greater size or strength, but Gracie Jiu-Jitsu teaches smaller, weaker people to safely and effectively handle themselves agains larger, stronger opponents, all without needlessly injuring the other person and causing more problems for him/her and you the parent. Controlling violence, not creating more violence, is what Jiu-Jitsu in Severna Park is all about.
WE TEACH KIDS TO MEET VIOLENCE WITH CONTROL NOT MORE VIOLENCE!
Our Self Defense Methods are tried and true, teaching kids practical and effective responses to real life scenarios in a safe and structured environment where they can gain the confidence they need to defend themselves when it matters most. Our Kogen Kids learn Respect, Discipline, Hard Work, Focus, and Confidence, all while having Fun! A Confident, Happy, and Self-Assured child is a Bully-Proof Child!
All martial arts have value, but not all martial arts are the same. Most people have only heard of Karate or Taekwondo and there are several well-meaning Karate schools in Severna Park and Taekwondo schools in Severna Park, but we are sure that Jiu-Jitsu is the best choice for children. Our kids are taught realistic and effective techniques not outdated forms and board breaking. Our kids are taught the value of hard work and must earn their stripes and belts because your child's safety and skill is more important to us than giving premature and overly-inflated belt ranks that instill false self-confidence and a dangerously unfounded sense of security. There are no participation trophies at Kogen Dojo. Our kids learn real self defense skills and solutions to real world conflict and their belts represent real achievement.
TEACH YOUR CHILDREN HEALTHY, POSITIVE VALUES AND GOOD CHARACTER WHILE GIVING THEM THE INVALUABLE GIFT OF SELF-CONFIDENCE! ENROLL TODAY AT KOGEN DOJO!
Our Commitment is to run The Best Kids Martial Art Program in Anne Arundel County, teaching Real Self Defense Skills to the children of Annapolis, Arnold, Cape St. Claire, Crofton, Davidsonville, Edgewater, Glen Burnie, Millersville, Pasadena, & Severna Park.
In Kogen Dojo's Brazilian Jiu-Jitsu classes for kids, your child will learn mental and verbal self defense as well as the physical skills necessary to defend against bullies by closing the distance to get inside striking range, take the bully down to the ground, and control the bully safely and effectively until help arrives and an adult can intervene.