Muay Thai Classes for Kids
Bring your child in for a free class and take advantage of the Best Muay Thai Classes for Kids in Severna Park (just outside of Annapolis), MD!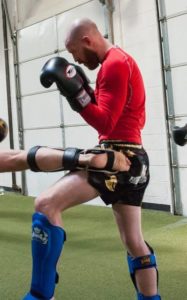 It's never too soon for your kids to learn real martial arts. Muay Thai, also known as "The Art of 8 Limbs," is the most complete striking art on the planet.
Kogen Dojo's Youth Muay Thai program teaches kids how to effectively defend themselves through effective, proven striking and clinching techniques, while also teaching fitness and discipline! At Kogen Dojo our goal is to provide a safe and encouraging learning environment to learn self defense, self-confidence, and respect for others. Our Youth Muay Thai program is designed to develop life skills such as goal-setting, self-control, and a being a great teammate!
Does your child have trouble focusing? Our Youth Muay Thai program enhances our students abilities to pay attention and follow directions. Students improve their ability to focus and complete tasks after being given instructions. Muay Thai is a great way for children who have trouble focusing to concentrate on a task and to gain tangible skills in the process.
Does your child have too much screen time? Our classes provide students with a fantastic way to get out of the house and interact with other children, while having fun! Students improve their abilities to socialize with kids their age, in a safe and engaging environment. Muay Thai is also a great martial art for physical fitness – strength, cardio, balance, and mental focus.
Are their belts in Muay Thai? No, there are no belts in Muay Thai. We do however promote students within our 3 tiered Level System. In order to be promoted students need to demonstrate the required level of proficiency in the techniques on the curriculum. Students are also required to show respect to their coaches and teammates. Good sportsmanship is stressed in every class and students also are also required to show self-control when drilling and sparring.
Are classes physically challenging? Yes, but no student will ever be asked to do more than they can handle. Physical fitness is improved with Muay Thai training and Muay Thai athletes are some of the best conditioned in the world. Muay Thai improves cardiovascular endurance, strength, flexibility, and hand eye coordination. Muay Thai classes require students to run, jump, and duck, as well as kick, punch, knee, and elbow. The physical and mental toughness that is required in class helps students gain confidence to deal with whatever life throws at them.
My child is shy, will they be intimidated in class? We have many different types of students! To ensure that every student progresses, our instructors give each student personal focus and attention. Every child is different and we make sure that we cater to all different personality types We also give students the confidence and skills to deal with bullies. We promote an environment where all students can learn and grow together! Through our system our students become better leaders and members in the community.
Does my child have to compete? What if my child wants to compete? Our student base is extremely diverse. We have students who train for fun and others who compete. We all work together to help each other achieve our goals. No one is forced to compete, but students who want to are encouraged to do so and are provided the training necessary to be successful. There is sparring in class, but never beyond the abilities of the students who are paired up carefully with kids of similar age, size, and skill.
The best fighters in the world universally acknowledge the effectiveness of Muay Thai. No experience is necessary.