Muay Thai
Learn Muay Thai, The Best Striking Art in the World, in Severna Park, MD!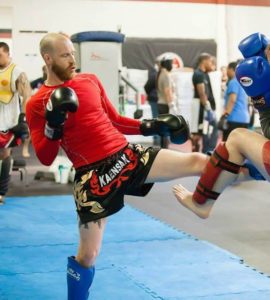 Whether you are looking to Get in Shape or you want to Compete, we have Muay Thai Kickboxing classes that will fit your needs. Known as The Art of Eight Limbs, Muay Thai has come to be known as the Most Effective Striking Art in the World. Great for kids and adults alike, the beauty of Muay Thai is in its calculated simplicity, using all striking parts of the body — fists, shins, elbows, and knees — as effective and efficient striking tools. Beyond striking, you will also learn specialized throws and sweeps from the clinch, all while getting stronger, faster, and more physically fit.
Muay Thai has become an indispensable facet of MMA (Mixed Martial Arts) training because of its effectiveness as a striking art. You don't have to compete at high levels to get benefits from Muay Thai training, however. It's Fun and Effective for people of all ages and at all levels of fitness. At Kogen Dojo, we start you where you are, at whatever level fo fitness and skill you walk in with. Our instructors shape classes to meet the needs of the students while pushing them to be better every day. DON'T WAIT to Get Into Great Shape before training, Get Into Great Shape THROUGH training!