Women's Jiu-Jitsu Classes for Self Defense
Women's Jiu-Jitsu Classes - No Experience Necessary! No Special Uniforms Necessary!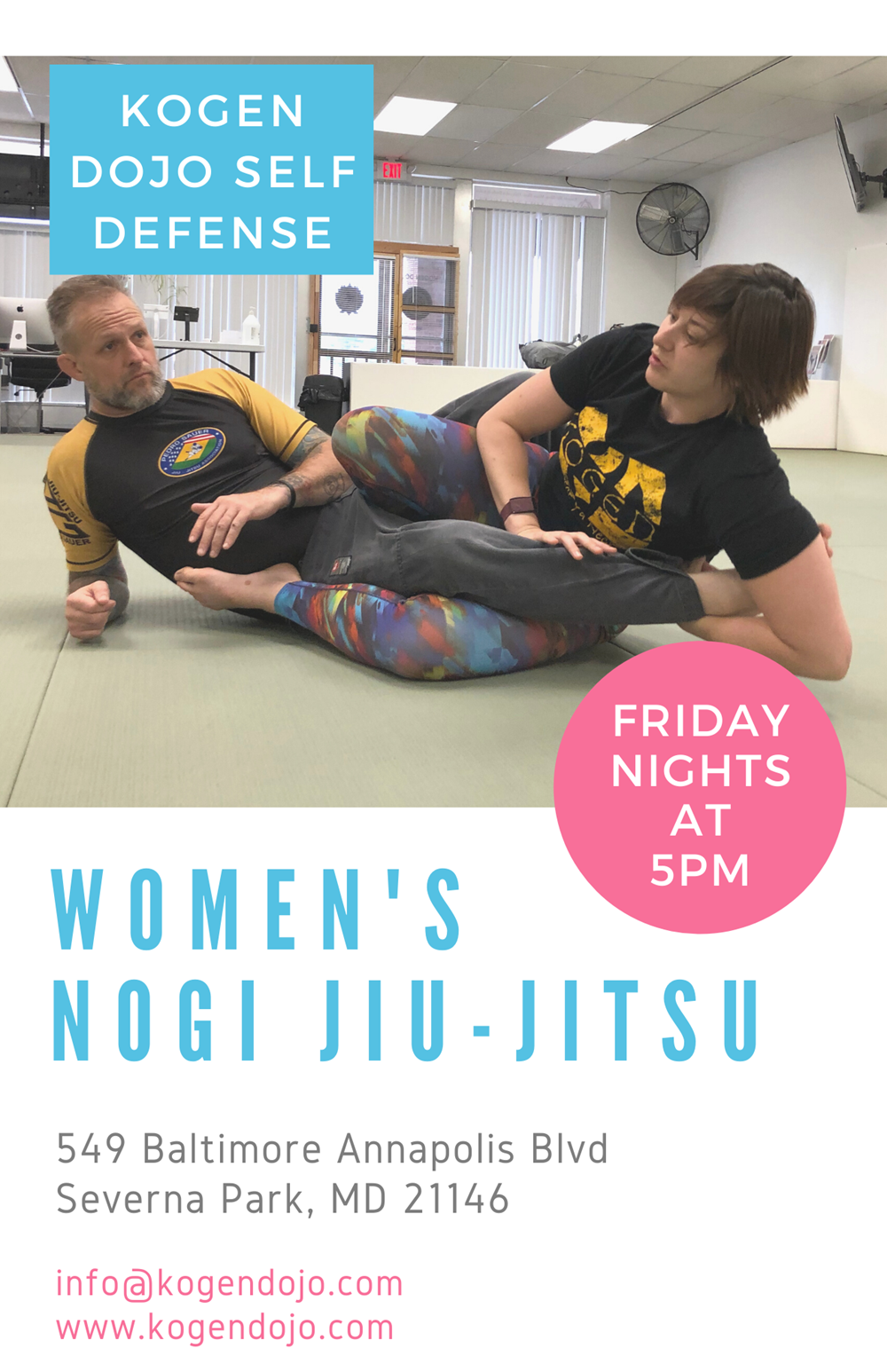 In a world where women are often seen as targets and victims, Gracie (Brazilian) jiu-jitsu offers practical self-defense tools that are designed specifically to teach smaller, weaker individuals how to survive against, escape from, and even defeat, larger, stronger opponents. Because jiu-jitsu relies on distance management, timing, and leverage for its' techniques' execution, not speed, size, and power, it is the ideal martial art for women of all shapes and sizes. No previous experience or athletic ability is required to start jiu-jitsu, nor is age is not a limiting factor. Come as you are. Start as you are.
At Kogen Dojo, our women's jiu-jitsu and self-defense program aims to empower women and teens to protect themselves. Learning self-defense through jiu-jitsu offers women of all ages, skill levels, and fitness levels the confidence to defend themselves when needed, while building and being par of a community of likeminded supportive individuals. Beyond just self defense, jiu-jitsu is a fun, challenging way to exercise and learn a new skill.
Women who train at Kogen Dojo are encouraged, but not required to also try out other classes. In addition to our women's only jiu-jitsu classes, we have Jiu-Jitsu Fundamentals classes six days a week, multiple general self-defense classes, morning classes, and daytime classes, all of which have Kogen Dojo's signature welcoming, family atmosphere. Beyond jiu-jitsu, women also love our Muay Thai (kickboxing) and yoga classes. Whatever your training goals, we know that we have something for you.
Our women's jiu-jitsu classes are taught by Pedro Sauer purple belt, Charlene Dixon. Char has been training in self-defense for 5 years and is passionate about helping women all over the DMV learn the skills needed to never feel like or become victims. Char and the Kogen team have created a safe, welcoming environment that is free of judgement. Kogen Dojo is more than just a place to learn and train. It is an extended family and support network.
Over the past several years, Kogen Dojo has created a warm, welcoming, family environment. You will find in every class that our instructors and students alike are focused on helping each other and everyone on the mats improve in a safe, non-competitive atmosphere. Our team is made up of working adults who are all looking for a fun, challenging hobby that brings us all more confidence, personal empowerment, and community. We are stronger together than we are individually.
If your jiu-jitsu training goals extend beyond self-defense into the sport side of Brazilian jiu-jitsu, Char is also an active competitor and brings a wealth of knowledge for women who want compete. Women's competitive jiu-jitsu is on the rise globally, creating a demand for new divisions, and new opportunities for women every year. Competitors who train with other women have a realistic expectation of what it's like to spar with women at the competition level.
With that said, self-defense is the basis for sport jiu-jitsu, and our program provides a solid foundation for growth into the sport of competitive jiu-jitsu if that is your aim. However, there is no pressure to do so. We are happy just to have more women on the mats with us.
Whether your goal is self-defense, fitness, or you are simply looking for a community of like-minded individuals to be a part of, Kogen Dojo and our women's jiu-jitsu programs for self-defense in Annapolis, MD and Severna Park, MD is the place for you.